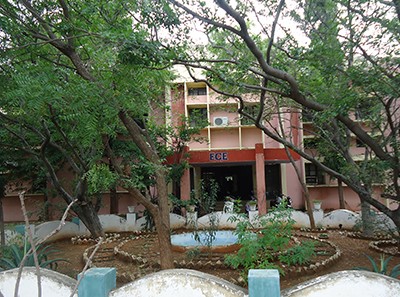 The Department of Electronics and Communication Engineering was established in the year 1981 to converge with the growing requirement of design engineers in the country and with the perception of developing the students to pursue leadership, technical and management positions in variety of industries.
The Department of Electronics and Communication Engineering is a rapidly conducive field with inspiration emerging every moment. Since there are exhilarating driveway to examine, analyze, re-invent and develop modules, systems starting from mobile phones, fiber optics, remote sensing, etc., the Department gears up the students for careers in the constantly developing discipline. Since its constitution the paramount goal of the Department has been to bestow high quality technical education to the students with comprehensive in importance on designing, analyzing and configuring Electronics and Communication systems.
The Department has competent, knowledgeable and committed faculty who serve with passion to provide intense and ideal learning domain in order to assist them to surpass in present competitive state of affairs. Most faculty members are accomplished doctorates and post graduates with substantial research and academic performance.
Students have several placements in foremost companies such as TCS, CTS, L&T, Infosys, etc. To keep momentum with current technological flow, the Department has well equipped laboratories such as Electronics lab, Communication lab, VLSI lab, Digital Signal Processing lab, Microwave and Fiber Optics lab, Microprocessor lab and Networks lab which gives the students the requisite and adequate support of concrete understanding that they need. The Department provides access to study of high end software like MATLAB, MULTISIM, VHDL, Synplify Pro, Ultiboard, etc. ECE makes the students to develop, progress and succeed into exemplary and excellent engineers by hard work.